Next Boot Camp in LA
December 9-14, 2013
January 27-February 1, 2013 (This sessions starts the day after NAMM)
he Recording Boot Camps®  hosted by Home Recording Boot Camp are six day workshops geared towards advanced beginners and intermediate students. The workshops never have more than 5-6 students to ensure plenty of personal attention to the needs of each student. The heart of the curriculum is all about taking your recordings to the next level and helping people make better records. The course have helped everyone from major label producers to weekend warriors coming from all corners of the globe from South Asia to Northern Europe.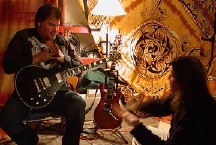 The goal of the Recording Boot Camps is simple: To give professionals and amateurs involved in recording the skills and knowledge to make the records they want to make; to help students get the sounds they want to hear coming out of the speakers. The materials are not designed to simply show a student where to put a microphone or a particular setting on a compressor, but the why so that they can understand recording on a deeper level and use the craft of recording to unleash their creative ideas in the studio.
For schedule of upcoming workshops check out the schedule page here
We are Format and Genre Agnostic. The Recording Boot Camps are not design for any particular style of music or any particular recording format. Any given class could have students into heavy metal working with Cuebase or a jazz artist working on analog tape, or a choir director working with a stand alone digital recorder, or a hip-hop producer working in Pro Tools. The program is all about giving students skills and knowledge and knowledge that will apply to any style of music in any recording situation. The course covers pre-production through mastering with a heavy focus on recording and mixing and learning to use mic techniques, dynamics and other processors as creative tools. The material also helps students understand how every step of the recording process relates to all the stages of a recording.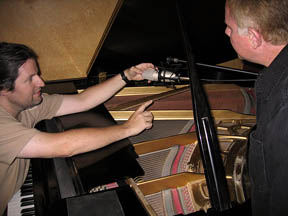 The Majority of the Recording Boot Camps are held at Veneto West Studio in Los Angeles, with a special "Italian Villa Boot Camp" held at a 500 year old Italian Villa in North Italy outside of Venice. The curriculum was developed and taught by world renowned producer / engineer, Ronan Chris Murphy. The sessions in Los Angeles often feature guest master classes by engineers and industry insiders in the world of records, film music, and pro audio manufacturing. One thing that is different about Home Recording Boot Camp is that anything a student learns at a Recording Boot Camp is taught by a full time working pro with major label credits.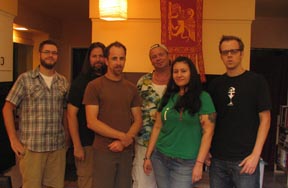 It is hugely important to us that students that attend the Recording Boot Camps love the experience. Therefore we conduct a phone interview with any potential students to make sure that what we do and what the student is looking to learn is a great match and that the student?s level of experience is appropriate for the course. If you are interested, contact us to set up the interview. Workshops often sell out a couple months in advance so early registration is strongly recommended.
SIX DAY BOOT CAMP (Los Angeles sessions) $1000 for 30 day or more advance registration $1100 for less than 30 day advance registration. $1200 walk up registration. (Class size limited to 6 participants and usually sell out) Please note that all Boot Camps outside of Los Angeles have special pricing. To set up an admissions interview contact Ronan